I had the opportunity to attend Enterprise Connect this week. It was a great event that was filled with many transformational solutions that are helping to usher in a new way to work and collaborate.
If you have not seen the latest announcements on Microsoft Teams make sure you check out the following posts for a full breakdown of the various announcements on features and functions rolling out within Microsoft Teams now and throughout the year.

Lori Wright – Microsoft Teams wins Enterprise Connect Best in Show award and delivers new experiences for the intelligent workplace

Paul Cannon – What's new in Microsoft Teams – the Enterprise Connect feature round-up

There are two announcements that I am looking forward to. Secure Private Channels and the Whiteboard capabilities within Teams using the Microsoft Whiteboard App and the Intelligent Capture of a room whiteboard. As Lori Wright mentioned on stage at Enterprise Connect
Secure private channels allow you to customize which members of the team can see conversations and files associated with a channel. You can restrict channel participation and exposure when needed without having to create separate teams to limit visibility. This is one of our top requested features and we're excited to be actively testing this internally and with select customers. Coming later this year.
Having private channels is going to help within my workflow and Microsoft Teams creation once deployed. I am a strong proponent for the concept of working out in the open within the team and groups I work with. But there are times when I want to have a broad audience communicating and collaborating around the theme of the Team. The benefits of having a broader audience allows for increased knowledge transfer and colloboration sharing of ideas and best practices.
There are however some conversations, such as financial, M&A activity, NDA content, that require additional controls and often require only a subset of those within the Team. Secure Private Channels will be something you want to incorporate into your Teams provisioning planning and overall governance models as it will open up the door for some great possibilities. As I review some of my own teams I see an opportunity to consolidate a few Teams since there is overlap in the people across those Teams.
The other element I am looking forward to is the Whiteboard feature. As Lori mentioned there are two Whiteboard aspects, the Microsoft Whiteboard application and the AI enabled Intelligent Capture of a traditional room whiteboard.
Content cameras and Intelligent Capture in Microsoft Teams Rooms will soon support an additional camera for capturing content, such as information on analog whiteboards. Using any USB camera, Microsoft Teams Rooms leverages Microsoft's new Intelligent Capture processing to capture, focus, resize, and enhance whiteboard images and text, so remote attendees can clearly see whiteboard brainstorming in real-time, even when someone is standing in front of the whiteboard. Coming later this year.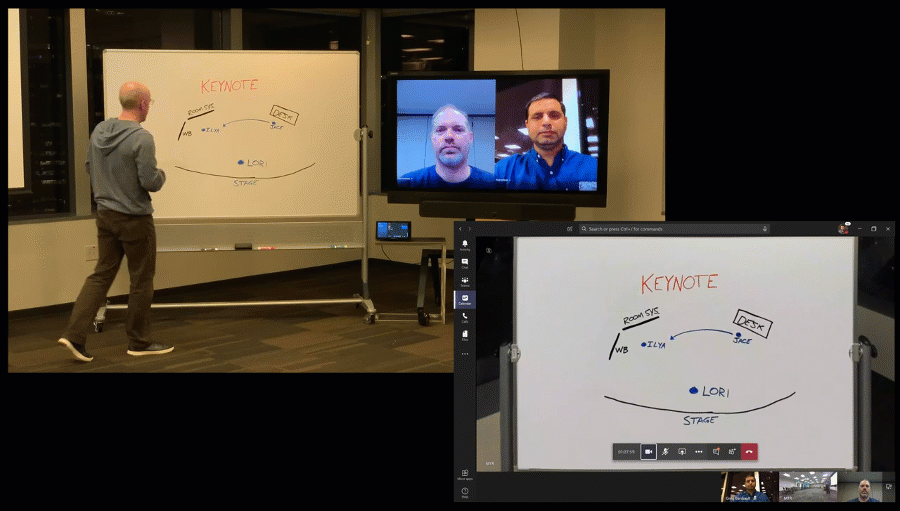 Microsoft Whiteboard in Teams meetings provides an infinite digital canvas for meeting participants to work together directly in Teams. With upcoming support for Whiteboard in Microsoft Teams Rooms, in-person attendees can also contribute. You can even add content from a physical whiteboard onto the Whiteboard canvas without having to recreate it from scratch. Whether you choose to participate from the meeting room or remotely, Whiteboard in Teams enables everyone to actively participate in the conversation. Now in public preview.
As Microsoft Teams continues to grow I am finding my ability to work remotely and still engage with teams in Redmond and all around the world has improved significantly. We are reaching a point where physical barriers no longer limit our abilities to create and innovate. Given how dynamic our typically workdays our the persistent chat capabilities allowing for near real time communication can open up the doors to collaboration in ways we would not achieve working together within an office.