When I am not working on business or technology projects, I like to experiment in the kitchen. Over the past few months, as we have hunkered down at home due to Covid-19, we have gone through all our standard dishes multiple times! To add some new variety, I started to look around for new ideas that don't require ingredients that may be difficult to find in today's environment.
During a recent virtual happy hour with some good friends, I stumbled upon a simple yet flavorful vegetable recipe, whole roasted Cauliflower cooked in a Dutch Oven. Preparation takes only a few minutes, a little over an hour of cooking, and you are ready to serve! Let's go through the preparation and cooking steps.
Ingredients
Cauliflower (one head feeds about 2 – 3 people)
Minced Garlic
Olive Oil
Salt & Pepper
Any additional seasoning you may like. I have seen some recipes add Parmesan cheese, Italian seasoning, etc.
Equipment
Dutch Oven – The primary cooking tool you will need for this is a good Dutch Oven. I used the Lodge 5 Qt Cast Iron Dutch Oven, which I recently picked up for other cooking ideas. A single head of Cauliflower fills a 5 Qt Dutch Oven; you will need additional Dutch ovens if you plan on cooking multiple heads of Cauliflower.
Preparation
Remove excess leaves from around the bottom of the Cauliflower. Make sure the Cauliflower's base is level to keep the edible portion of the Cauliflower from touching the bottom of the Dutch Oven.
Rub Olive Oil over the top of the Cauliflower (I suggest putting the oil olive on the Cauliflower over a plate and not inside of the Dutch Oven. Leaving a coating of oil on the bottom of the Dutch Oven will cause the oil to burn and generate a lot of smoke.)
Mince two to three garlic cloves and rub them over the top of the Cauliflower.
Add Salt, Pepper, and other seasoning as desired.
Place the Cauliflower into the middle of the Dutch Oven.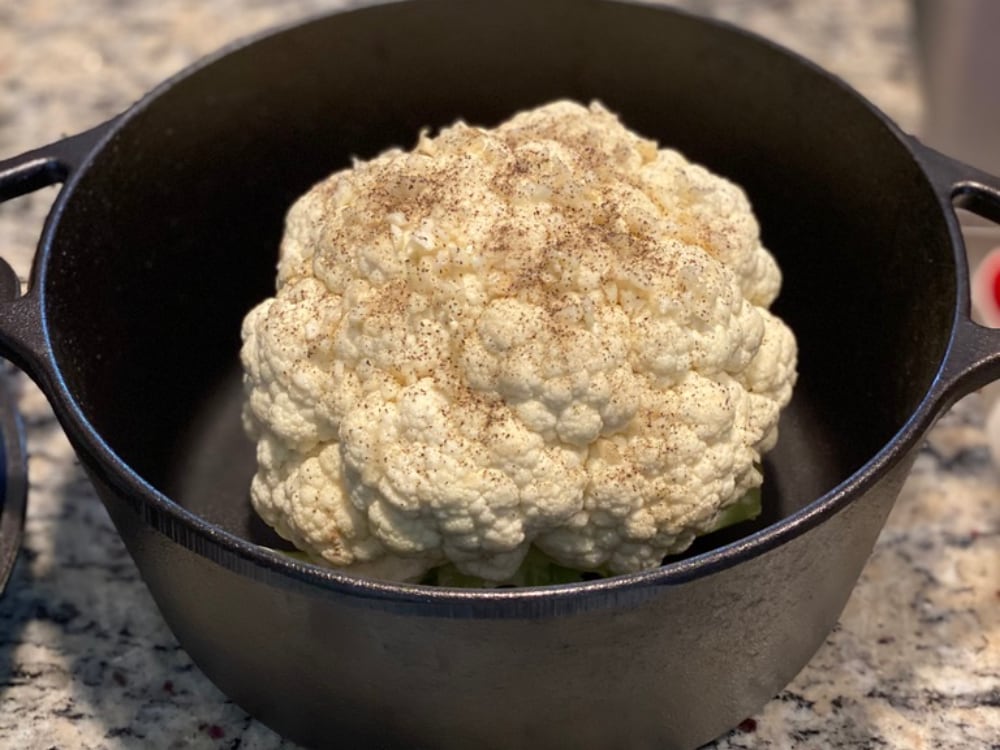 Cooking
Preheat the oven to 425 degrees.
Place the Dutch Oven with the Cauliflower into the stove for exactly one hour.
After one hour carefully remove the Dutch Oven cover and leave the Cauliflower to cook for anywhere between 5 to 15 minutes based on your desired level of caramelization you want on the outer portion of the Cauliflower.
Take the Dutch Oven out of the stove and carefully transfer the Cauliflower to a bowl and enjoy.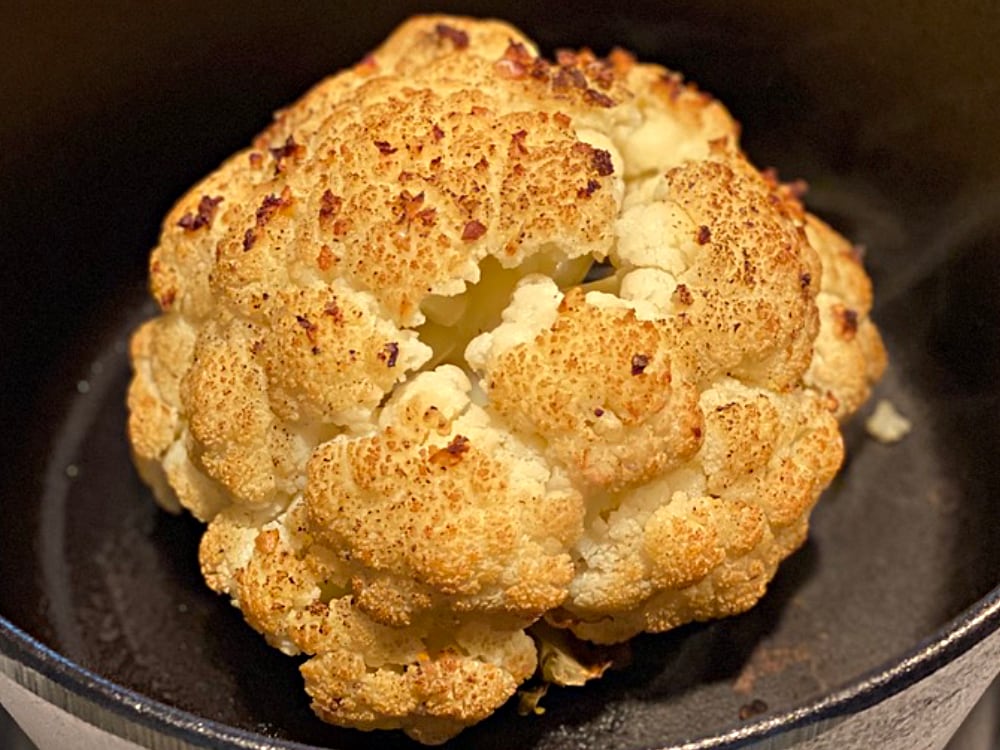 Enjoy!!!