If you are on Skype for Business Online now is a great time to start thinking about the conversion to Microsoft Teams. Keep in mind upgrading from Skype for Business to Microsoft Teams is more than a technical migration. It represents a transformation in how users communicate and collaborate, and change is not always easy.
I have been working in a team that has been focused on Microsoft Teams since 2017, and I will say it has been a great experience in helping to drive our team's digital transformation. The ideal upgrade approach should address the technical aspects of your upgrade as well as encourage user acceptance and adoption of Teams, driving positive user experience and business outcome realization.
There are many ways to get started with Microsoft Teams. One way to start could be with Meetings and Calling, Teamwork, or maybe some custom application that helps improve a business challenge. The key thing to remember is that Microsoft Teams can be applied to so many aspects of an organizations daily business. In many cases, a journey approach is needed to help users learn and grow over time.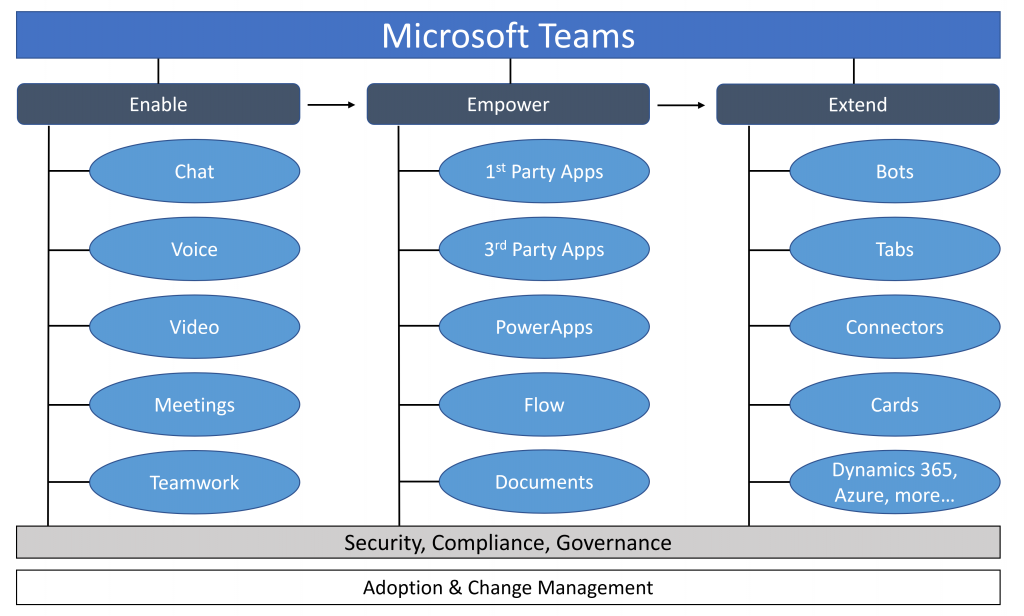 When thinking about ways to achieve user adoption, consider a journey approach for your users. For example, you could start by enabling the core functions of Microsoft Teams, getting the users to embrace chat, voice, video, meetings, and the Teamwork elements of Microsoft Teams.
For example, when you focus on the Teamwork aspect, we are fundamentally getting users to change how they work. The concept of working out in the open within secure Teams and Channels may seem strange to users at first. Once the users discover the significant increase in communication, collaboration, and teamwork that comes with using the new tools, they will adapt fairly quickly.
Within Microsoft, we were able to convert 180,000 users from Skype for Business to Microsoft Teams in 4-months. I have witnessed my habits change. My workflow when starting a conversation today typically begins with going to a Team and a Channel, unless the discussion is private. There are significant benefits of starting a conversation in a secure open forum. You typically will get an answer quickly, and others on the team will learn from the elements in the discussion, helping to drive innovation and collaboration.
Once you have enabled the users with the rich capabilities of Microsoft Teams, the next phase to consider is empowering the users. There are a wealth of 1st and 3rd party applications, integrations, PowerApps, Flow, and document sharing that achieved within Microsoft Teams. In many scenarios, you can enable these features and functions with no coding required. In some situations, you may have a line of business system that you need to integrate with or some custom process or flow that may require development. What is significant is that you can host the code anywhere, such as SharePoint, Azure, or even an on-premise server.
In addition as you are planning your user adoption and change management strategy for deploying Microsoft Teams make sure you consider Security, Compliance, and Governance. Take a look at some of the resources on my previous blog post https://www.robertjgates.com/microsoft-teams-dont-just-turn-it-on/ that highlights some areas you will want to plan for.
Have questions about Microsoft Teams, feel free to reach out.